The Randy Emperor 32 of The Imperial Court Of Toronto (TICOT)
He was ICP and Secretary to Reign 31 and King Father 2016. Randy was Mr. Leatherman Toronto 2017 and a top 20 finalist at IML 2017. Randy was a Past President of SPEARHEAD Leather Denim Social Club which is the longest running gay organization of it's kind in Canada (established 1970).
He was Mr. SPEARHEAD 2016 and Mr. SPEARHEAD 2013, helping the LGBTQ community by creating cooking workshops called "Leatherlicious" benefitting Rainbow Railroad. With Heart Of The Flag Federation he produced events, like "Kinky Kasino" and "Fetish Family Feud", with the proceeds going to Supporting Our Youth (SOY). He co-hosted fundraisers called "Daddy Issues" in support of the Toronto People With AIDS (PWA) Foundation. With TICOT, he hosts the monthly event Regal Beagle BINGO at the Black Eagle. Randy is a member of TNTMEN and is employed as their cashier. He is also employed by the Black Eagle for their monthly Naked Night events. Randy wants to continue to work with the community to raise funds for those that are less fortunate.
His awards include the 2017 Candice Kelly Heart Of Gold Memorial Award, the POZ TO 2016 Community Award, The Imperial Court Of Toronto's 2016 Citizen Of The Year, Heart Of The Flag Federation's 2015 Community Man Of The Year, SPEARHEAD'S 2013 Brotherhood Award and canonized as "Saint Randy of the Many Sashes" by the Toronto Sisters of JOY. He is pinned into Mama's Family as "Mama's Canadian Ambassador".
Regent Empress 32 Teran Blake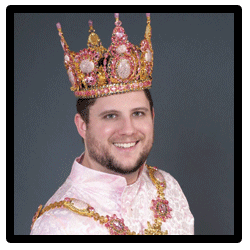 Born and raised in Toronto Jason Dickson Vanderbilt has been involved in fund-raising for the community since 2001. Officially involved with The Imperial Court of Toronto since 2003, Jason has held severally titles and positions within the organization including; Mr. Trillium 2008, Imperial Crown Prince 28, Secretary, and in 2016, Jason was elected and crowned Emperor XXX of The Imperial Court of Toronto. Currently Jason serves as an Heir Apparent and 7th in Line of Succession to Empress Nicole the Great, Queen Mother I of the Americas
Vice Chair - Dwayne Moore
Dwayne has been a member of TICOT since 2017 and this is the second year he is serving on the executive. He was previously the Social Convenor.
Dwayne created the new TICOT website, digitized our membership database to an online platform and helped create our new logo.
Treasurer - David van Tonder
David has been a member of TICOT since 2017 and this is the second year he is serving on the executive as the Treasurer.

David modernized TICOT's accounting by moving it to a cloud-based online platform and continues to evolve the financial reporting practices of the organization.

For over 20 years Morgan James has been an LGBTQ activist on and off the stage. Her community involvement ranges from being among the early advocates for same-sex marriage to working with the Cooperative Housing Federation of Canada providing safe, affordable, inclusive housing for LGBTQ individuals. Morgan was also involved on the Project Team that resulted in the first Canadian health plan making life insurance available to people living with HIV in 2016
While acting as a mentor for LGBT youth and working with organizations world-wide Morgan James still found time to hold titles at the local, national and international levels including being the only person (to date) to win the title of Miss International Pride twice.
During her time in the Philippines Morgan assisted in raising money and items for local orphanages, planted trees to revive areas devastated by typhoons and volunteered with a hospice for seniors abandoned by their families.
In 2017 Morgan was named "LGBTQ Person of The Year" at the annual Inspire Awards.
A long time TICOT member Morgan has been Miss Trillium (2004), Empress of The Queen Mary (Long Beach, CA) and received numerous Half Empress titles from across Canada and the USA, Additionally she received an Ultima title (Reign 22) and has held the position of Empress 29 and Empress 31.
Social Convenor - Kathy Sparkles
Although new to the court Kathy Sparkles has already become a fixture with the imperial court of Toronto. Earning the title of volunteer of the year a member of the board, and constantly with camera in hand you'll see her at many court events. Kathy has brought a long overdue attention to our social media and continues to increase our online presence.